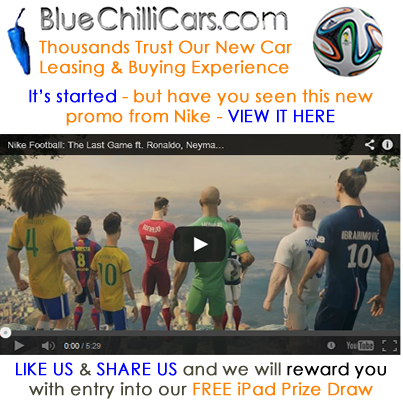 . . . FUN VIDEO'S . .

. . . FROM A NEW WEBSITE WITH ALL THE WORLD CUP RESULTS AND NEWS . .
. . . VIEW HERE – IT'S FANTASTIC . .
. . . FIND OUT WHAT CARS THE FOOTBALLERS DRIVE . .
. . . FIND OUT HOW YOU CAN AFFORD THEM . .

The final whistle is about to blow on our top of the range Honda CR-V EX deals, request a quote before full time here. Prices from £210.00+vat per month.
Blue Chilli Cars offer car leasing for business and personal users. Visit our main site and search our latest deals at your leisure. Feel free to call us on 0161 425 8334 for advice. Follow us for our latest deals via Facebook.
IF YOU HAVE NOT ALREADY done so, then please LIKE US and SHARE US using one of the links below  – this will qualify you for entry in our draw to "Win An iPad Mini 16GB". For more details of our iPad Competition – click here.
View full details at our main website – view here . . .