And we're off in Detroit! The press preview took place on Monday, with the show opening to the public tomorrow, giving the media first look at what's on show in 2015.
As the press do, they reported it. Here's a VERY quick round up of what they saw. We'll go into detail on certain cars ourselves soon.
Volvo Unveil S60 Cross Country
The S60 Cross Country follows Volvo's V60 and it's the first time the Cross Country tag has been applied to a normal road car. But with Volvo's patented all-wheel drive system and a ride height 2.5 inches higher than previous versions the name fits.
The T5 engine produces 250bhp from 2.5 litres and five cylinders.
All in all it's a monster of a car offering good performance, fairly good looks and, of course, Volvo's impressive safety features.
Interested in Volvo car leasing? Visit Blue Chilli Cars to see what we have to offer on business or personal lease terms.
Audi Q7 Debuts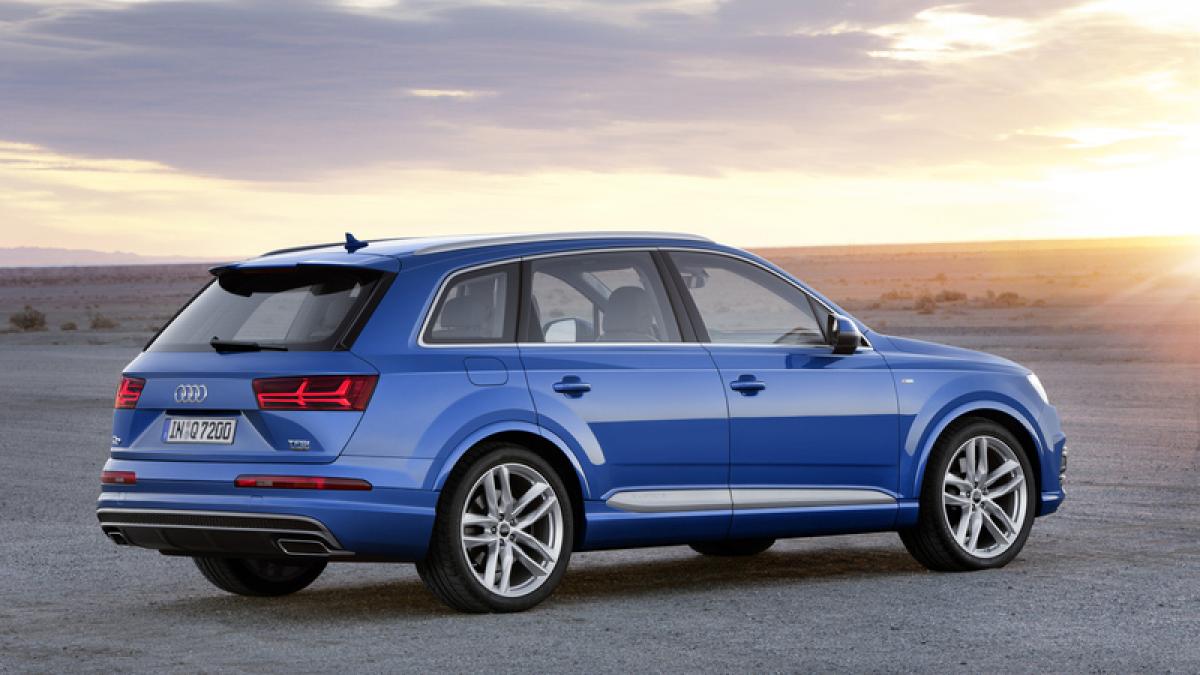 Audi's new Q7 is an all-aluminium affair and is the first to use the MLB platform. What's that? Essentially it's a mix of components that will be shared across a number of models produced by the Volkswagen Group. Other models to use the platform include the Audi A6, Audi Q5, Porsche Cayenne and more. The idea of using a unified system is to cut down on engineering costs and production time. We'll see if any of that gets passed to the customer…
This Q7 benefits from significant weight loss thanks to MLB and the all-aluminium build – some 700 pounds in fact, which should make it feel a lot sportier than most SUVs.
You get a choice of two 3-litre V6 engines – a TFSI or a TDI – with varying performance levels but size-wise there is little difference to the previous Q7, though you do get more headroom.
We should be seeing this model in the UK in late summer, so stay tuned!
Blue Chilli Cars offer fantastic deals on Audi car leasing. Why not take a look at our business and personal contract hire offers?
Hyundai's Pick Up Truck
Aimed at "Millennial Urban Adventurers" – whatever they are – the Hyundai Santa Cruz concept is as beautiful as it is unlikely to attract millennials.
We love it, we really do. Details are scant, as you'd expect with a concept but Hyundai say it will have a 2-litre turbodiesel engine producing 190bhp and 300lb-ft of torque, giving fuel economy of around 30mpg. With room for up to five passengers the Santa Cruz will have four doors, with the rear doors being suicide doors (rear hinged).
Everything about it should appeal to young adventurous types with a hankering for skiing, mountaineering and the like – but will the price tag? Perhaps we'll see one day.
Check out our Hyundai car lease deals of available models.
New Ford GT Supercar
Now we're talking. The first supercar from NAIAS and it's Ford's new GT. Isn't she just divine?
The carbon fibre monocoque is topped and tailed with aluminium front and rear subrames and carbon fibre body panels. It's a whole new look for GT…and yet it is still recognisably a GT. Quite a feat by Ford.
The engine is a new 3.5 litre twin turbo EcoBoost V6, producing, Ford say, over 600bhp. VROOM!
All in all, this is a step forward from the previous GT, which in itself was amazing. We can't wait to see one or two of these on the roads when it lands in 2016!
Blue Chilli Cars offers good deals on a wide range of Ford models (though not the GT!). To see all our Ford car leasing dealings, visit us.
Porsche Show TWO New Models
Porsche aren't messing about in Detroit. The press preview saw them unveil two new models. First, the Porsche 911 Targa 4 GTS, which on first look reminds us off a mini version of the of the 911 range. It isn't though.
0-60 in 4.1 seconds and a top speed of 186mph are achieved by the 3.8 litre H6 engine and PDK transmission. Not too shabby at all. And, you know, it's a 911 so it looks the business. Optional extras only improve it further (like a sport exhaust system).
Alongside the 911 Targa Porsche showed off the new Cayenne.
The Turbo S, as it is called, actually gets to 60mph quicker than the 911, sprinting to it in just 3.8 seconds. Mad, right? Well, the 4.8 litre twin turbo V8 achieves it even with the added weight of what is really an SUV. A top speed of 176mph is pretty impressive too!
A black and cream leather interior makes it feel ultra-luxurious on the inside and carbon fibre accents on the exterior add to it's look and appeal.
This goes on sale in April we hear, though in which countries we're not sure.
Blue Chilli Cars can provide you with a new Porsche on business contract hire or personal lease terms. 
New Bentley SUV – The Bentayga
The hotly anticipated Bentley SUV did NOT make it's debut in Detroit but we did find out what it will be called. The Bentayga. Why? Dunno. But we do sort of like it.
Bentley's press conference was short and sweet according to American mag AutoWeek, but it looks like business is good for the UK manufacturer. Sales are up, their moving into Vietnam (yes, really) and the Crewe plant is getting a £1.2 billion overhaul with the company creating new jobs via an R&D wing. Go Bentley.
As far as the Bentayga goes, we only have the early photograph above to go off…and to be honest, we're not sure we like it. Share your thoughts with us on Facebook or Twitter.
Hyundai Hybrids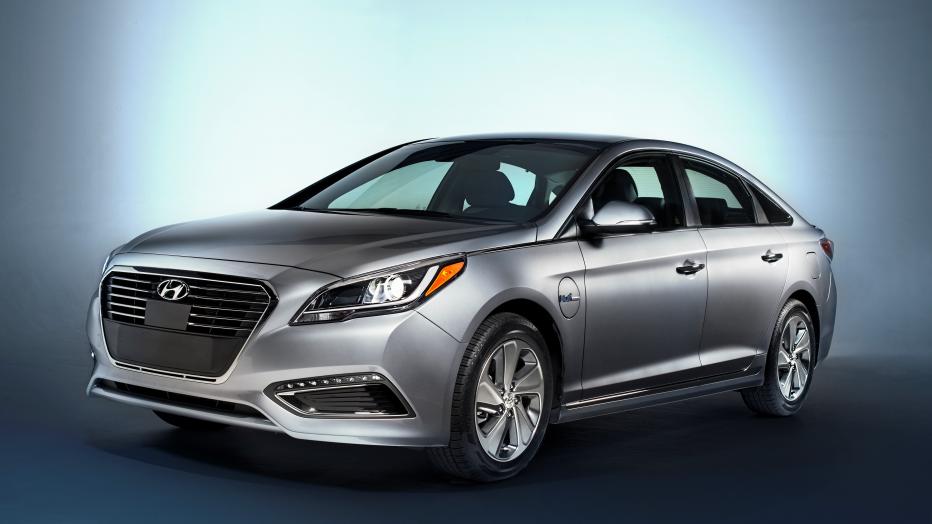 While Hyundai may have introduced their pick up truck concept, they're also keen to show us how green they are with new hybrid models. The Hyundai Sonata Hybrid and Sonata Plug-in Hybrid (PHEV) cars will be on sale later this year and hit the streets in 2016, we hear.
The only thing that really matters with hybrids – apart from their environmentally friendly approach to motoring, of course – is their range and fuel consumption.
The Sonata Plug In Hybrid will apparently give you 22 miles on electric alone and 93 miles per gallon in EV mode. Typically you'll get 40mpg. Oh, and you can charge it from a normal wall socket as well as with the Level 2 charger. Handy.
The standard Sonata Hybrid is much the same, with a combined MPG of around 42.
These represent a really good option to the more environmentally aware drivers out there.
New Mini John Cooper Works Hardtop
Words cannot describe how much we love this. Mini debuted their Mini John Cooper Works hardtop at NAIAS and we fell in love when we saw the photos.
The four cylinder engine boasts "TwinPower Turbo Technology" and offering 228bhp. Basically, it's the most powerful engine Mini have put into a production model. With a six-speed manual gearbox you're looking at 0-60 in just 6.1 seconds – this is a Mini!
This performance version of Mini's two door hard top is really the only one we'd ever want.
But if you want the standard two door or bigger four door, have a look at our Mini car leasing options.
2016 Acura NSX On Show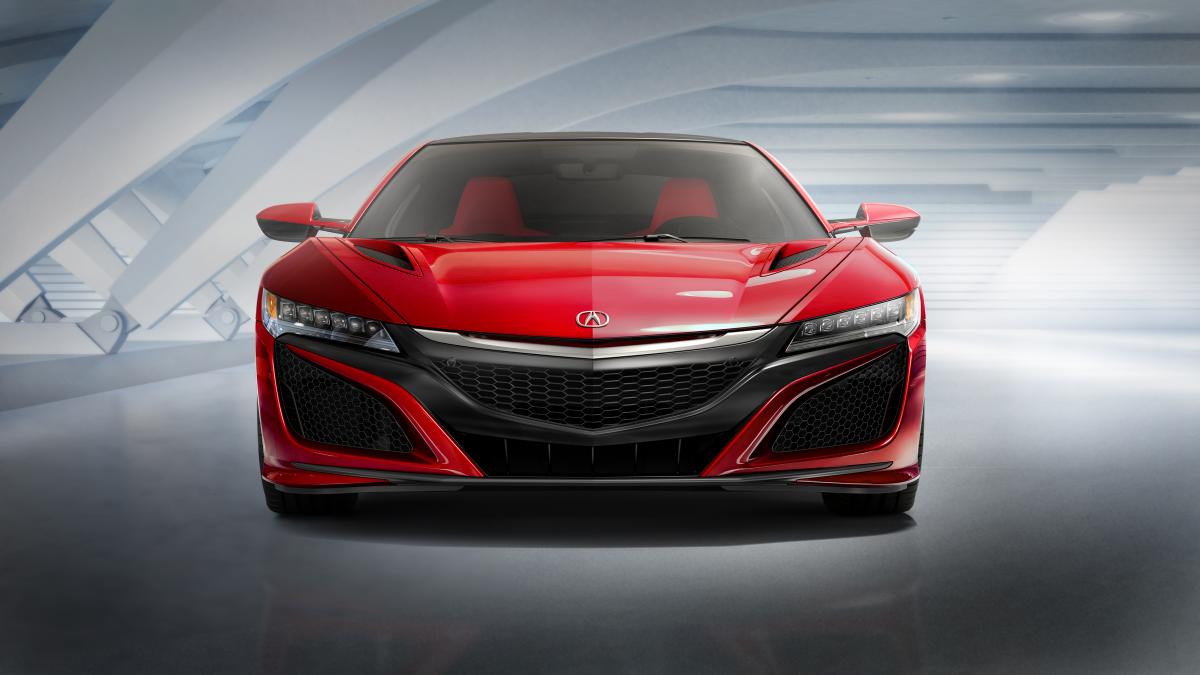 The latest NSX from Acura has been in the making for at least three years and they finally revealed the production version on Monday.
A V6 twin turbo V6 engine sits in the middle, powering the rear wheels. Overall bhp will be over 550. And it has a ton of performance enhancing options.
It's a sports car built for road and track and it looks like it'll be at the affordable end of the market – $150,000 or so.
We're interested in looks though and we're not sure how we feel about this. It doesn't look bad – at all – but it doesn't quite get the pulse racing. We assume the drive does!
Shelby Mustang GT350R From Ford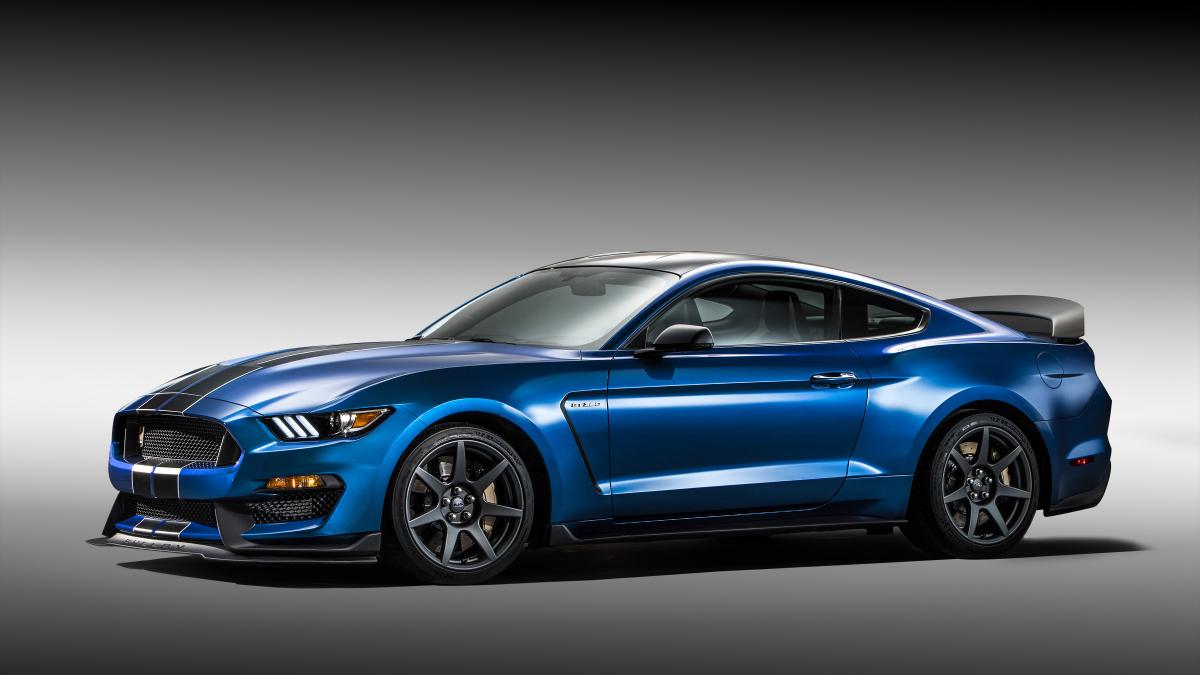 It wouldn't be an American car show without a bit of genuine American muscle and Ford have delivered in spades with the new Shelby Mustang.
It features a 5.2 litre V8 engine delivering 500bhp and it's built for the track – that's what the R is for on the end of GT350.
Whatever – it's a big old chunk of muscle and looks amazing. Truly amazing. No refined lines here. Just bulk and power and aggression. RAWR!
Volkswagen 2015 Golfs Win Award
VW's 2015 Golf and Golf GTI are proving just how good they are – this time round they've won the North American Car of the Year, adding to a list of accolades they've won recently.
Michael Horn, the CEO of Volkswagen Group of America, said:
Volkswagen is thrilled to start 2015 with the Golf and Golf GTI taking home the incredible North American Car of the Year title. This award highlights our achievements and hard work in the past year, and we are confident that the Golf family will continue to pave the way for the brand in the year ahead.
Congrats to VW.
If you would like to drive new Golf now, take a look at our Volkswagen car leasing deals.
Alfa Romeo Unwraps 4C Spider
Alfa Romeo debuted the 4C Spider on Monday, the soft top version of the original 4C.
It features much the same stats as the 4C coupe – a 1.75 litre turbo-charged four-cylinder engine offering 237bhp, a six-speed dual-clutch transmission, a 4.1 second dash to 60and a top speed of 160 mph.
But the really impressive thing is that it weighs only 20 pounds more than the coupe even with the soft top mechanics.
Yeah, we like it. It's an Alfa, after all!
Mercedes C350 Plug In Hybrid
Finally, Mercedes unwrapped their new green offering, the C350 plug in hybrid. On the looks front it leaves a lot to be desired in our view, but perhaps that's balanced out be the environmentally friendly nature and performance stats of the car.
20 miles on electricity alone, Mercedes say, which is good (though not as good as the Hyundai mentioned above!). Basically, if you want a luxury car that makes you feel good about your choice, the C350 is probably it.
Mercedes say they have a lot more hybrids to reveal soon – we hope they look better than this, even if it is a good green option.
That's our wrap up from the press preview day complete. We'll have more from the show next week, but for now why not pay Blue Chilli Cars a visit and see how we can hook you up with a brand new car on a business leasing or personal car leasing deal?